Dear ADB eLearn User,
Recently, you must have received a test announcement from ADB eLearn similar to the one below. Our sincere apologies for the inconvenience as we are currently doing testing on a new feature added to the site.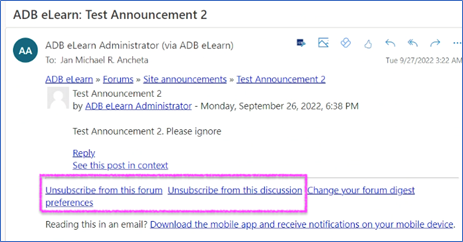 The new "Site Announcement" feature will be used moving forward for news, updates, and other announcements such as course launches, and others. Please note that receiving updates like these is entirely optional and subscription to these emails may be changed by clicking the preferred unsubscribe options:
Unsubscribe from this forum – unsubscribe from all Site Announcements
Unsubscribe from this discussion – unsubscribe from this specific Site Announcement
Site Announcements will always be available in the ADB eLearn site upon login.
ADB eLearn Support